Dim Sum at Din Tai Fung
Din Tai Fung has spread around the globe and made a name with its popular Xiao Long Bao (pork dumplings) and earned a Michelin star for it. Their signature pork dumplings are filled with tender minced meat and hot soup and everyday their dim sums are freshly prepared.
Pay the Taiwanese chain a visit with your friends or co-workers and watch the cooks skilfully pleating the dough and steaming the dim sum in the open kitchen area. 
Cost: Dishes range between $48 – $95 
Must Order: Classic Pork Xiao Long Bao 
Location: G/F, 68 Yee Woo Street, Causeway Bay
Cart

Noodle

at Wing

Kee

Noodle
 (榮記粉麵)
Cart Noodles are a cultural icon in Hong Kong. Traditionally served from rolling carts by hawkers and street vendors, this assorted dish has kept its name and customizable style of making:  
You start with choosing your preferred noodles and top them with an assortment ranging from fish balls, over chicken wings to veggies. Finally, you choose your gravy (Beef brisket, satay, curry and spicy). 
In Causeway Bay, Wing Kee is one of the best places to go to get this local pedestrian food. Their cart noodles are very flavourful starting from their chewy noodles to the toppings and broth. 
Depending on the number of toppings prices range from 35$ for one topping, to 47$ for 5 toppings. The individualised nature of this dish makes it easy for everyone to find something.  
Cost: Dishes range between $35 – $47 
Must Order: Whatever your heart desires  
Location: G/F, 27A Sugar Street, Causeway Bay
Dim Sum

at

DimDimSum
DimDimSum is a popular franchise that has won numerous accolades for its excellent quality of food. Nonetheless, prices are reasonable while their food is full of flavour. The service here is prompt but friendly.  
Cost: Dishes range between $30 – $95 
Must Order: Pan Fried Stuffed Eggplant with Teriyaki Sauce, Piggy Custard Bun 
Location: 7 Tin Lok Lane, Causeway Bay​​
P
ork
chop
rice
at
Delicious
Kitchen
Delicious Kitchen has won many fans with its Pork Chop Rice dish. Their pork chops are juicy and full of flavour, coated in a crispy batter and slightly glazed with honey. Other than the pork chop dish, Delicious Kitchen is living up to its name with their noodle dishes as well, ranging from soup noodles to dry noodles. However, you cannot go wrong with the lunch rice set that gives you a lot of tasty value for your money.  
Cost: Dishes range between $47 – $100 
Must Order: Pork Chop Rice 
Location: Food Street, Fashion Walk, Shop B, G/F, 9-11 Cleveland St, Causeway Bay
Dough sticks and Rice Porridge at Chung Kee Congee
 (
忠記粥品)
Congee (rice porridge) can be found all over Hong Kong and is typically eaten for breakfast or when you are sick. Don't be fooled by the underwhelming name. Congees are packed with flavoursome ingredients! By adding ingredients in the boiling rice until they become soft the entire porridge is infused with flavour. And garnished with meat or fish and condiments even more umami is added. Dunk in a crispy Youtiao (fried dough stick) and you are good to go! 
Chung Kee has several joints in Causeway Bay, the service here is quick and efficient and the congee savoury and thick? A plain congee starts at $12 only and for around $20 you get options like Minced Beef Congee or Salted Egg Congee. Add a fried dough stick for $9 and your meal is complete.  
A couple of hundreds meter away you can find the awarded Michelin star Ho Hung Kee Congee & Noodles. However, prices start at around $50 for congee. 
Cost: Dishes range between $12 – $30 
Must Order: Dough sticks and Congee 
Location: 436 Hennessy Rd, Bowrington, Causeway Bay
Sticky rice rolls
at Shanghai Hong Kong Noodle Shop
If you're in a hurry for a quick on the go meal, these Chi Fan (sticky rice rolls) are your best bet at Shanghai Hong Kong Noodle Soup! Originating from Shanghai, Chi Fan are fried dough sticks wrapped in a sticky rice log along with pork floss and diced preserved vegetables. 
Since the rolls sell out fast, chances of getting a fresh and hot one are high. Otherwise, insist on getting the freshly made ones to get the most out of the crispy yet fluffy dough sticks and the chewy sticky rice. The combination of the crisp fried dough, paired with sweet but also savoury pork floss, mixed with the crunchy preserved vegetables hugged by warm sticky rice hits the spot and will keep you full until your next meal. 
Cost: Sticky Rice Rolls start at $25 
Must Order: Sticky Rice Roll in Shanghai Style 
Location: 29 Jardine's Bazaar, Causeway Bay 
Cart
noodles
at Sun
Kee (
新記車仔麵
)
We can't get enough of cart noodles, they never get boring! Depending on your appetite you can mix and match this dish to your own liking. Top this noodle soup dish with spicy fish cake, gluten, squid for instance! The possibilities are endless and prices reasonable.  
Nestled between V-Point and Times Sqaure, the small cart noodle vendor Sun Kee is constantly visited by both locals and tourist for their tasty cart noodles. Packed tables and long queue during lunch breaks are a norm here. Unfortunately, they don't have an English menu. So come after lunch hours and bring your good friend Google Translator along or be adventurous and let yourself be surprised with a cart noodle meal. 
Cost: Main dish ranges between $36 – $40 
Must Order: Completely up to you 
Location: Shop B, 49 Tung Lung Street, Causeway Bay 
Hong Kong Waffles at Mammy Pancake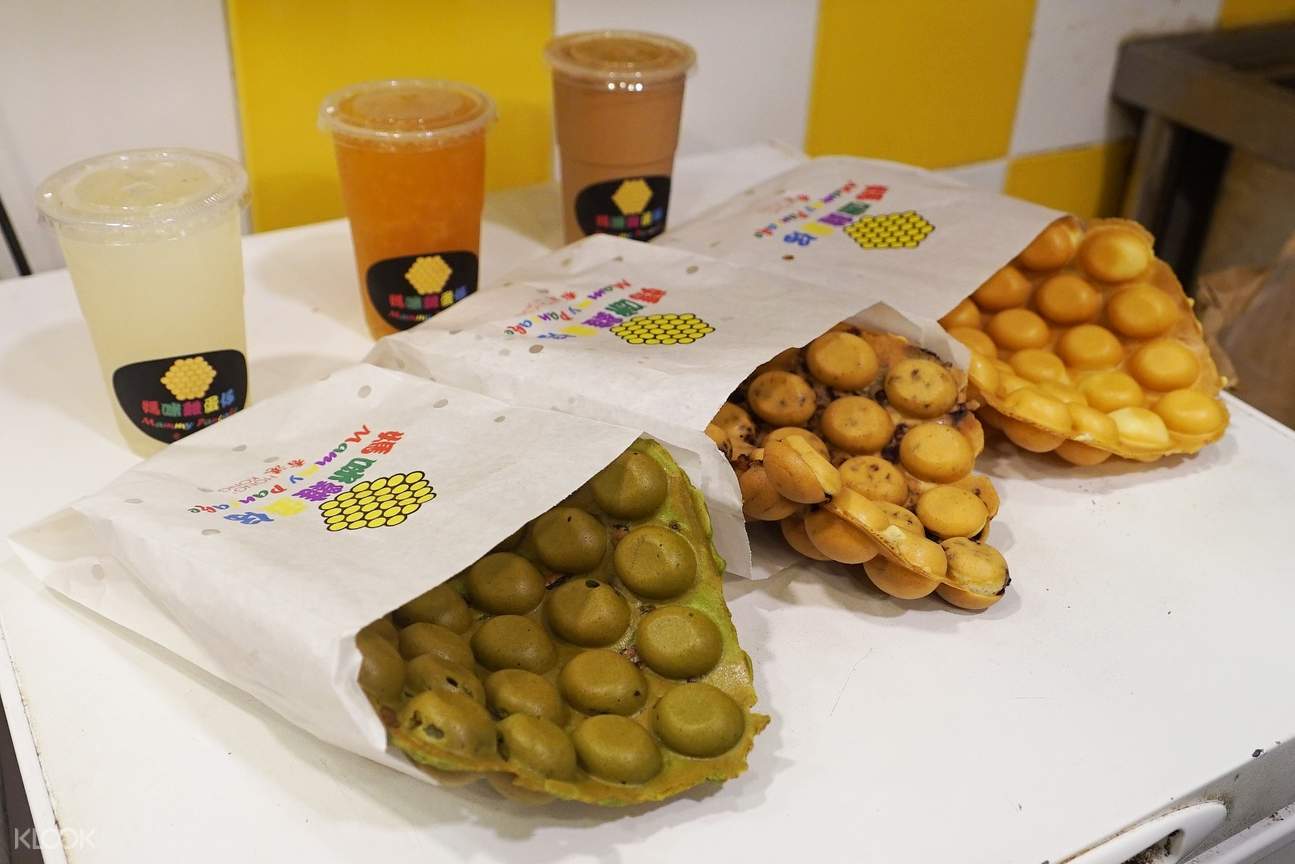 Egg Puffs, also known as Hong Kong egg waffles have become a global favourite all over the world. In Hong Kong they are a familiar sight on street sides and a common sweet snack to go. However, nowhere will you get such a big and varied selection of fresh waffles than in the Michelin stared chain Mammy Pancakes!  
What makes them especially good is that these small detachable mouth-sized balls can come with ingredients like honey, chocolate chunks or even mochi! In addition, Mammy Pancakes ensures constant high quality by using a thermometer to reach the perfect balance in crispiness and fluffiness in their freshly made waffles.  
Cost: Main Dishes range between 20$ – 50$ 
Must Order: Chocolate Chip Waffle 
Location: Leishun Court, 1-5 Haven St, Causeway Bay 
Steamed milk pudding

 at Yee Shun Milk Company
If you are in Hong Kong, you shouldn't miss out on their steamed milk pudding (shuang pi nai). And Yee Shun Milk Company is one of the most known cha chaan teng / places to get this item. This dessert lives from its silky smooth texture, that is gently wobbly. Preparations to make this are elaborate. While it is not the cheapest at  Yee Shun, its authenticity and quality are making up for it! 
The dessert can come with different toppings, another classic is the hot steamed milk with ginger. First timers should go for the classic Double Skin Steamed Milk Pudding though.  
Cost: Steammed Milk Pudding starts at 36$ 
Must Order: Double Skin Steamed Milk Pudding
Location: 506 Lockhart Rd, Causeway Bay 
Shaved

Ice and Sweet

Soup

at

Meet

Fresh 
Satisfy your sweet tooth with dessert at the Taiwanese cafe Meet Fresh. Ranging from sweet soups, to shaved ice and teas to treat yourself. And the best part is that the desserts are freshly made and consists of all-natural ingredients like sweet potato, red bean, peanuts, and fruits.  
Their quality and wide selection options has made it one of Taiwan's most popular dessert shops with more than 700 stores and expanding worldwide. 
Cost: Dishes range between $36 – $52 
Must Order: 8 Treassures Shaved Ice 
Location: Shop 1, G/F, V Point, 18 Tang Lung Street, Causeway Bay